Verses that are frequently misunderstood
- Misunderstood bible verses


In the bible there is not a single verse where Jesus said he was God and to worship him.
There are many verses in the New Testament that are either misunderstood, read out of context or taught incorrectly. Hopefully this section will clarify some of them.
Readers of the bible also need to question verses that were not actually spoken by Jesus himself but by the gospel writers. Purchasing a "red letter bible" will help identify Jesus's words.

 
The Suffering servant in Isaiah 52-53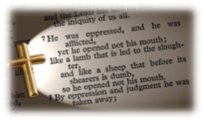 Many Christians believe these verses are a prophecy of Jesus. But it is actually ascribed to the nation of Israel 438 who silently suffered at the hands of its gentile oppressors.
Early on in Isaiah the servant is identified:

"But thou, Israel, art my servant, Jacob whom I have chosen, the seed of Abraham my friend." Isaiah 41:8 KJV
"Yet now hear, O Jacob my servant; and Israel, whom I have chosen:" Isaiah 44:1KJV
"For the sake of Jacob my servant, of Israel my chosen, I summon you by name and bestow on you a title of honor, though you do not acknowledge me." Isaiah 45:4 NIV

Bible Critic Randal Helms demonstrated in his book Gospel Fictions that the gospel writers went to Isaiah 52 & 53, they took certain details and put this into their narrative. 439 440
 
"He which is of God, he hath seen the Father" - John 6:46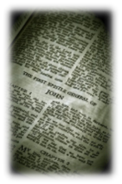 "Not that any man hath seen the Father, save he which is of God, he hath seen the Father." John 6:46

Some believe when Jesus said the above, he was actually saying he has seen the Father because he is part of God. That is not what the verse meant.  The below verses should clarify this:

He who is of God hears the words of God; the reason why you do not hear them is that you are not of God." John 8:47 RSV

You are of God if you hear the words of God, the teachings and the guidance. If you hear and follow you are one of the pious, the ones of God. Otherwise the teachings and guidance of righteousness comes to you but you do not seem to hear them.

"Beloved, follow not that which is evil, but that which is good. He that doeth good is of God: but he that doeth evil hath not seen God." 3 John 11
The later new testament writers seemed to have understood what Jesus actually meant, when he talked about those that 'hath seen the Father'.