MISUNDERSTOOD BIBLE VERSES
"Before Abraham was, I am" John 8:58
- Misunderstood bible verses

When Jesus said "Before Abraham was, I AM.", people believe that the "I AM" is the same "I AM" what God referred to himself when Moses said "and they shall say to me, What is his name? what shall I say unto them?" They use this as proof that Jesus was coexistent with God.

But it is a different "I AM" according to the Greek text.  441
 
Exodus 3:14  442

English

I

AM

Hath

Sent

Me

Unto

you

Greek

ὁ

ὢν

ἀπέσταλκέν

με

πρὸς

ὑμᾶς
The "I AM" here is pronounced "ho Ōn".
John 8:58  443

English

Before

Abraham

Was

I

AM

Greek

πρὶν

Ἀβραὰμ

γενέσθαι

ἐγὼ

εἰμί
The "I AM" here is pronounced "ego eimi".

Jeremiah was probably there before Abraham too, this is what God tells Jeremiah:
"Before I formed you in the womb I knew you, and before you were born I consecrated you; I appointed you a prophet to the nations." Jeremiah 1:5 RSV
 
"I am the way, the truth, and the life" – John 14:6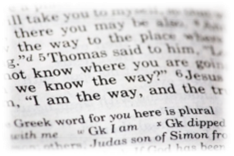 "In my Father's house are many mansions: if it were not so, I would have told you. I go to prepare a place for you."
"And if I go and prepare a place for you, I will come again, and receive you unto myself; that where I am, there ye may be also."
"And whither I go ye know, and the way ye know"
"Thomas saith unto him, Lord, we know not whither thou goest; and how can we know the way?"
"Jesus saith unto him, I am the way, the truth, and the life: no man cometh unto the Father, but by me." John 14:2-6 KJV

Jesus said I am going to my fathers house (heaven) and I go to prepare a place for you and you know where I am going and how to get there.
Thomas said we don't know where you are going and how do we know the way to get there. Jesus answered, I am the way, the truth. If you follow me and my teaching you will get there and have eternal life.
Jesus was the messenger of that time and no man could get to heaven without recognising him as the messenger / messiah to come and following his teachings.
Every messenger that was sent by our Father (God) would have said a similar thing: "I am a messenger of
God, I am here to warn you. Follow me and do what I tell you to do, and you shall have eternal life". The people of those times would have to obey their messengers of God. Noah would have said the same, Abraham, Moses etc. So in other words if you follow me (i.e. the messenger) you are following the Almighty God.